Google Search Gets It Wrong but Your Mamma Has the Solution!
Google is the undisputed leader in the internet search market.  Depending on which statistics you access Google has roughly 70 – 74% of the market share on any given day.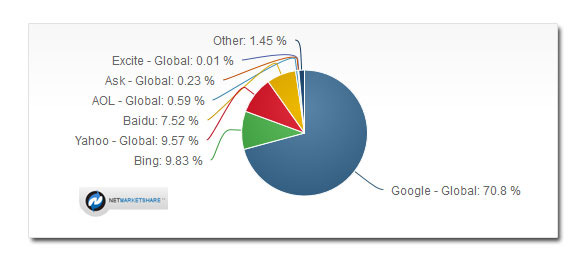 Depending on whose numbers you believe, arguably ninety percent of product and information searches begin and end on search engines.  So one would draw as a logical conclusion that you could find anything you needed on Google right?  WRONG … and here's where your mom is smarter than Google.
If you were born before 1985 chances are you used some form of an alphabetized list to look up a product or service. For most, including your mom, the most reliable source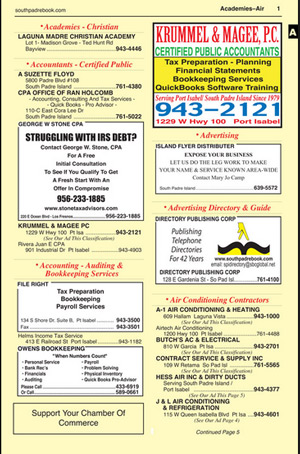 was the Yellow Pages. Every business that had a phone number was listed under a category of their choosing. Those that could afford it had larger listings, pictures or illustrations. But this type of listing was problematic because the businesses that could afford larger, more prominent listings weren't always the best in terms of service or quality. Additionally those businesses that started with the letter "A" were listed first resulting in an unfair advantage.
So naturally when Google came along with a more equitable solution everyone jumped on the bandwagon.  And the world was a better place for long time.  Being on page one of the search engine results leveled the playing field for the little guy.  If you did a good job and built your website correctly Google and other search engines rewarded you with lots of leads or attention to the information displayed.
And then came us evil search engine optimization specialists.  Once again the combination of skill, greed and capitalism drastically changed the game.  The very best search results are often nowhere to be found.  Or at least they are buried so far back on the search engine pages that you can't find them.  Those that can afford an SEO company like CCP Web Design are more likely to be on page one than companies that do not have the means to invest in their digital marketing.  If you are searching for a particular product or service and want a clear representation of ALL available businesses in a category you may not find them on Google.  And you definitely won't find them on page one.  You would be better off asking your momma for an old copy of the Yellow Pages.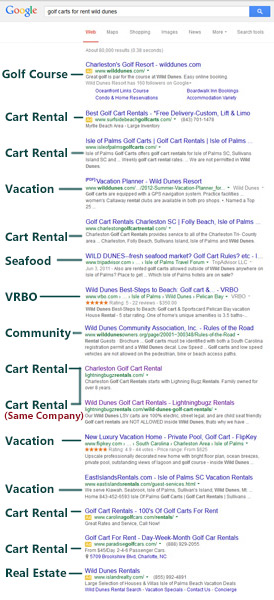 I experimented with this trend before I opened by big Google-bashing mouth.  Read on for the details of this case study  ….  Recently I wanted to rent a golf cart when I stayed at a property on the Isle of Palms in South Carolina.  I googled "golf carts for rent wild dunes".  There were a few golf cart rental businesses on the first few pages but overwhelmingly those pages were populated by sites that had been "optimized" to show up first even though they did not rent carts.  Tripadvisor, golf resorts, vrbo, vacation planners, flipkey, seafood and a number of aggregate sites dominated both the paid (sponsored) and organic space.  I called two or three places that were listed on the first three pages and they were all booked.  Eventually I called a friend of mine that lives in Wild Dunes and asked him to recommend a few places.  He came up with Palmetto Custom Carts and sure enough they had a cart for rent.  It was a better cart and a lower price than any other business that had been listed on the first three pages of Google.
In this case, and so many like it, the old fashioned Yellow Pages would have been a better solution.  Not because Google doesn't have a great search engine but because the system has been so tainted by forced results that the categories and keywords have been blurred.  Powerful, highly linked, keenly optimized businesses that list "golf" or "golf carts" dominated the pages.  Mom and pop shops like Palmetto Custom Carts don't stand a chance against these giants.  Moreover, there were less qualified golf cart rental organizations that landed on page one because they had better websites and website optimization.  They definitely didn't have better carts, rates or customer service.
So what about the online Yellow Pages?  They do provide a more concentrated categorical search but you cannot count on all businesses being listed.
Truly I am not suggesting that we all revert to carrying those big yellow books around.  I still love Google and think it's the best thing since sliced bread and phone books.  I am however suggesting that there are some serious holes in the search equation that are worth exploring.  The science of digital search is still in the infant stages.  It's exciting to watch this discipline evolve and re-shape our culture in real time.